13 Saint Asaph's Road (Bala Cynwyd, PA)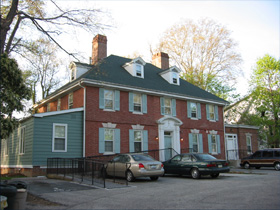 The 13 Saint Asaph's Road Project is an affordable apartment building providing lower than market rate rents. Using the Low Income Tax Credit program, in partnership with a local financial institution, the historic building was restored in 1996 to create six affordable apartments.
The single family 1920's Colonial Revival home with flanking office additions had been vacant and became deteriorated due to neglect. In the apartment conversion, the building's exterior appears virtually unchanged. Even though the structure was not considered eligible for listing on the National Register, the project architect, Campbell Thomas and Company, preserved much of the structure's interior and exterior elements. The end result was affordable housing in an aesthetically pleasing historic building which remains in keeping with its surrounding area.
LMAH is the parent corporation of 13 St. Asaph's, Inc. with affiliate 13 St. Asaph's, LP. The building is managed by Main Line Executive Realty (610-658-2920).
The property is fully rented and no units are currently available.