Spring Avenue Condo Development (Ardmore, PA)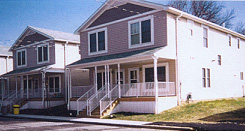 Lower Merion Development Corporation, a subsidy of LMAH, completed the construction of ten homes at Spring Avenue and Simpson Road in 2005. The new twin homes were built in two phases. Each home has three bedrooms and one and one-half bathrooms and all were sold to first-time homebuyers.
The Spring Avenue homes were built with assistance from the U.S. Department of Housing and Urban Development HOME and Community Development Block Grant Programs. The PA Department of Community and Economic Development and Lower Merion Township provided the federal funding for this project. The state also provided Brownfields for Housing funds for the development.
The General Contractor for the project was Domus Inc. of Philadelphia. The project architect was Campbell Thomas & Co. The project engineer was Carroll Engineering. Deluxe Home Builders of Berwick, PA provided the manufactured housing units. Genesis Housing Corporation provided project coordination.
In March 2004, President Bush toured the first phase homes to recognize the challenges of providing affordable housing. The President also visited with one of the new homebuyers to highlight the challenges that first-time homebuyers must overcome to achieve the American dream of homeownership.
The Spring Avenue development provided affordable for-sale housing in a community that rarely has affordable homes. Ten families were able to purchase homes at below market rates and realize their dream of homeownership in Lower Merion Township.